Bitcoin may be one of the most disruptive tech advancements of our time. In the least it is an exciting new digital currency and online payments system with many great innovations and a growing global user base.
Find out more about Bitcoins and the underlying Blockchain technology. Bitcoin popularity is soaring in South Africa and abroad, keep up to date with this amazing and revolutionary payments technology and it's place in the FinTech world. Add your listing to our Bitcoin business directory.
We provide the latest in Local, International and market related news and price information.
Latest Bitcoin Articles
Bitcoin news, information and current market prices in South Africa. View our latest posts below.
Bitcoin Charts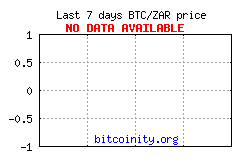 Bitcoin may be the TCP/IP of money.

Entire classes of bugs are missing.

It's money 2.0, a huge huge huge deal.

Bitcoin is a techno tour de force.
Shop With Bitcoin
Bitcoin is accepted as a payment option at the following online merchants in South Africa. Shop online and pay with Bitcoin. Buy 1000's of different products from top suppliers. Buy with Bitcoin and save!
Gadget-Shop.co.za
Bidorbuy

Raru.co.za